The Dos and Don'ts Of Carpet Maintenance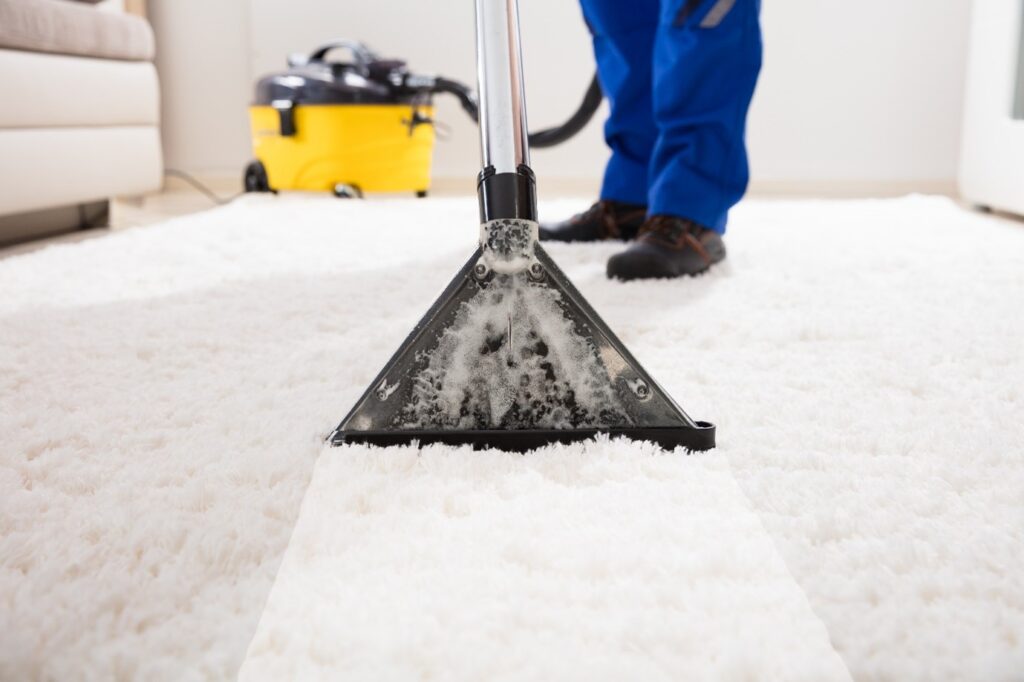 Thinking of installing a new carpet in your home? Here's everything we think you should know if you want to take good care of it.
Thinking of switching your old laminate floors for a beautiful, cosy carpet in time for the colder weather?
Maybe you've had carpet installed throughout your home for years and need a bit of an upgrade?
Whatever the reason you're considering getting a new carpet, it's important you know how to take care of it, especially if you want it to last and get your money's worth.
But how exactly do you look after a new carpet?
Here, our flooring experts explain the all-important dos and don'ts of carpet maintenance.
Do: Vacuum frequently
Vacuuming is an important part of carpet maintenance.
Even if your carpet doesn't look dirty, you should run the hoover round at least once a week, and twice a week in higher traffic areas such as your hall stairs and landing, for example.
Doing this will ensure no dust, dirt, pet hair, and other debris settles into the fibres, and will keep your carpet looking as good as new for many years to come.
Don't: Use too much water
When using water to clean your carpet, it's vital to ensure that you're not using too much, as doing this can lead to the growth of mould and mildew.
So, make sure you're not saturating your carpet, and instead use a soft, microfibre cloth dampened with hot water to freshen it up – adding a touch of white vinegar and baking soda to remove particularly stubborn stains.
If you're using a pre-formulated carpet cleaner, you should also make sure that the water content isn't too high.
Do: Clean up spills immediately
Clumsy or not, spills happen to the best of us.
Whether it's red wine, coffee or nail polish, leaving any spill to settle will almost always result in unsightly, hard-to-remove stains.
The longer you leave the spill, the harder it'll be to remove, so it's important you clean them up as soon as possible after they occur, to keep your carpet looking clean and fresh for years to come.
Don't: Use harsh cleaning chemicals
Using harsh cleaning chemicals – like bleach, or products that contain bleach for example – to clean your carpet can cause more harm than good.
It can actually damage the fibres of your carpet and cause discolouration, so to avoid this, you should use a gentle cleaning solution designed specifically for carpets.
Do: Install a high-quality carpet underlay
Many people think that carpet underlay is just an optional extra, but we can assure you it's much more than that.
Installing a high-quality underlay can extend the life of your new carpet by up to 50%, as it acts as a shock absorber and protects the carpet laid over top from everyday wear and tear.
Here at British Flooring, we stock a plethora of different carpet underlays, but our favourites are the Plushwalk underlays.
Available in 10mm and 12mm variations, the Plushwalk underlays provide excellent protection for your carpet and, being made from memory-type foam, ultimate underfoot comfort and sound reduction.
What's not to love?
Need more carpet maintenance tips?
If you've just installed a new carpet or are considering doing so and require more expert maintenance tips, our specialists at British Flooring are here and more than happy to help.
Give us a call today on 0203 325 9082 or email us at sales@british-flooring.co.uk and we'll be in touch with more information shortly!