Bathroom Flooring: Which is Best?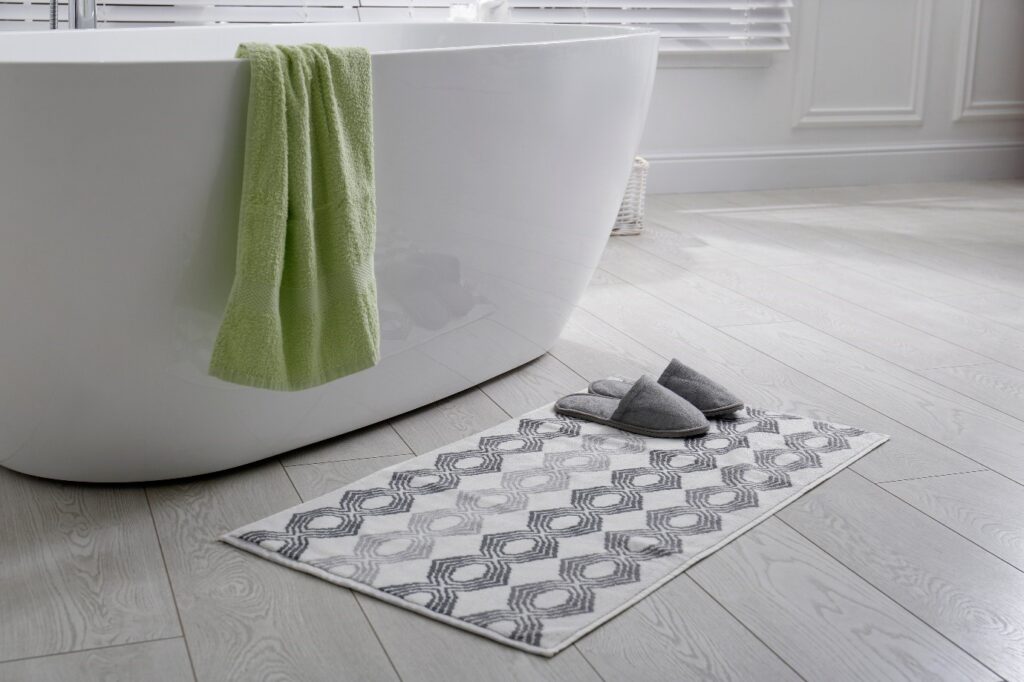 With so many options available, choosing new flooring for your bathroom is no easy feat. Read our experts' tips and recommendations in this article!
When choosing different types of flooring to lay throughout your home, the trickiest area is no doubt the bathroom.
Of course, you want your floors to look good and fit the aesthetic of the rest of your home, but with water and steam being ever-present, you need to think a little more carefully about the available options and which is most practical.
In this post, our experts here at British Flooring explain what you need to look out for when choosing new flooring for your bathroom and share some of their favourites to get you started.
What should I look for when choosing flooring for my bathroom?
With your bathroom being such a water-heavy environment, the main things to look out for are floors that can withstand lots of moisture and humidity.
Wooden flooring, for example, won't hold up well in your bathroom.
For one, wooden flooring isn't water resistant, and second the natural material contracts during periods of low humidity and expands in high humidity – causing cracks to form.
These cracks then leave room for moisture to seep into the wood causing it to swell and eventually rot.
Wooden floors can also be super difficult to maintain and are rather slippy when wet – making accidents all the more likely.
The same is true of engineered wood flooring and laminate, [PD1] so it's best to steer clear of both these options.
Vinyl on the other hand – be it LVT (Luxury Vinyl Tile) or bog-standard sheet vinyl – is an excellent choice due to its water-proofing capabilities and the protection it provides against humidity.
Vinyl flooring is also much easier to keep clean, and thanks to the powerful grip it provides, causes significantly fewer slips and trips.
It's a no-brainer!
What are the benefits of vinyl flooring?
Aside from all the practical features we mentioned above, vinyl flooring also has a number of additional benefits, including:
Versatility – vinyl is available in a variety of different colours and designs, making it the perfect choice for all homes. From wood and tile effects to retro tile patterns, you're bound to find something you love.
Affordability – compared to wooden and laminate flooring, vinyl – in all of its forms – is much more affordable, with prices starting at just £37.98 per roll.
Longevity – when high-quality vinyl is installed and maintained properly, it can last for up to 25 years! It's able to withstand heavy foot traffic and is not easily damaged, which is perfect for a frequented bathroom.
Do I need an underlay for vinyl flooring in my bathroom?
No matter which vinyl flooring you choose, you shouldn't need to install an underlay beforehand.
Vinyl flooring is designed to eliminate the need for an underlay, and so long as the surface it's being laid over is smooth and level, a well-cushioned sheet vinyl should be enough on its own.
This isn't to say that you can't install an underlay, and if you still wish to do so, we provide a fantastic selection here at British Flooring.
Need help choosing bathroom flooring?
With so many different options available, choosing vinyl flooring for your bathroom can feel like a difficult task.
Not to worry, though.
Our experts here at British Flooring are always more than happy to provide their recommendations.
Simply call us on 0203 325 902 or email us at sales@british-flooring.co.uk and we'll be in touch with further details as soon as possible. If you've already picked out the perfect vinyl flooring for your bathroom, add products to your online basket and head over to our secure checkout to have your flooring delivered directly to your door!